Niello Porsche Service Department
At Niello Porsche, we do more than service your Porsche.
You'll get the quality, expertise and advantages the other guys can't provide.
We're the experts when it comes to servicing your Porsche, and the only place that can offer these important amenities.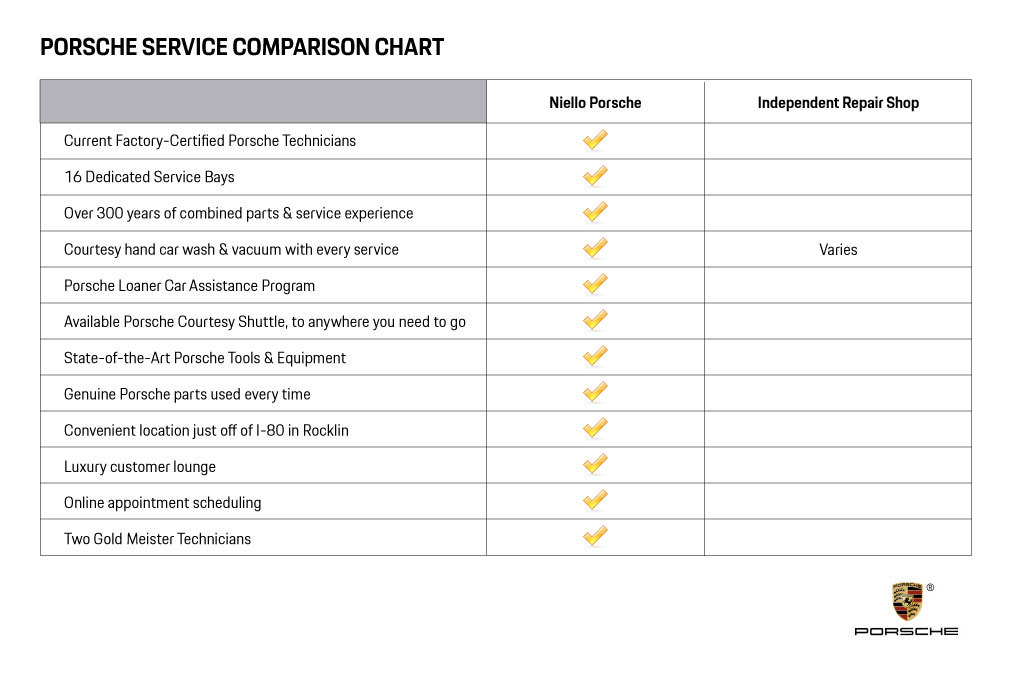 When you want the best service for your Porsche in the greater Sacramento area, come to the place that has it all. With all the advantages you get at our dealership, why go anywhere else?
If you are ready to experience genuine Porsche service at competitive prices, please start by scheduling your service appointment.
Competitor information gathered January 2018. Competitor offerings subject to change.
Service Department hours:
Monday thru Friday: 7:00 am - 6:00 pm
Saturday: 8:00 am - 5:00 pm
(916) 625-8300
Our Niello Porsche Service Team
About our Service Department
The Niello Porsche Service Department is located in Rocklin, just minutes from Sacramento, Roseville, Folsom, and is uniquely qualified to care for your Porsche. If you want to feel secure about how your Porsche is serviced, bring it in to Niello Porsche. We at Niello are prepared to offer you the highest level of customer service and care. Niello Porsche has the expertise to service your older-model Porsche, as well as the current line-up of Porsche models. This includes the Boxster, Cayman, 911 Carrera, Macan, Cayenne and Panamera models. We are equipped to properly handle service and maintenance for unique Porsche models such as the Porsche Carrera GT and Porsche 918 Spyder. Be sure to view our Porsche Service Coupons before you schedule a service appointment at Niello Porsche so you can save money on your visit. Niello Porsche uses only the latest in technology and houses state-of-the-art equipment. With decades of experience you can be assured that our highly skilled Porsche service department is ready to serve you. Our factory-trained and ASE certified technicians are qualified to perform any type of Porsche repair or service. Should your Porsche be involved in an accident or need body repair, please contact our Collision, Paint & Auto Body Repair Center for top notch service and repair of your vehicle.